Diamond Coating
Diamond Coating is an extremely hard surface, it has a very low coefficient of friction and excellent thermal conductivity. There are four purposes for use of Diamond Coating on mechanical seal faces.
Dry Running/Poor lubrication:

conventional face materials can be damaged in seconds when ran dry. Because of the low coefficient of friction, Diamond Coated faces will tolerate poor lubrication and/or dry running (performance dependent upon P/V).

Abrasive Applications

: often a double seal or a single seal with flush is used in abrasive applications. They both require a flush and there are times when flush is not available or product contamination is not permitted. The Diamond Coating permits users to apply better performing seals in abrasive applications.

High Pressure:

In extreme high-pressure applications Diamond Coating can help offset the negative effects of high closing force on the mating faces due to its low coefficient of friction and thermal conductivity.

Electrolytic Corrosion

: this phenomenon can happen when ultra-pure water is being pumped at high shaft speeds. An electric charge arcs between the two seal faces causing pitting on the wear surfaces and eventually seal failure. Diamond Coating stands up well to this type of corrosion.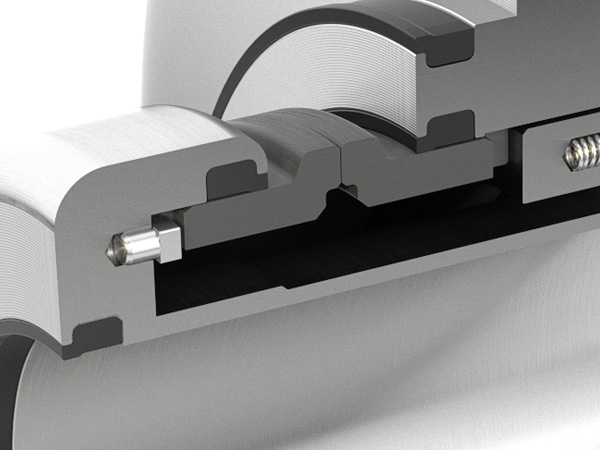 Lip-o-Ring®
Patented hygienic elastomer profile that satisfies the highest cleanability demands on the seal.
The special geometry of the LIPORING prevents material/product deposits in the (o-ring) groove, facilitating the best possible CIP operation regarding the seal. This technology eliminates several crevasses (tough to clean areas using CIP) that exist with conventional sealing methods (gaskets and orings).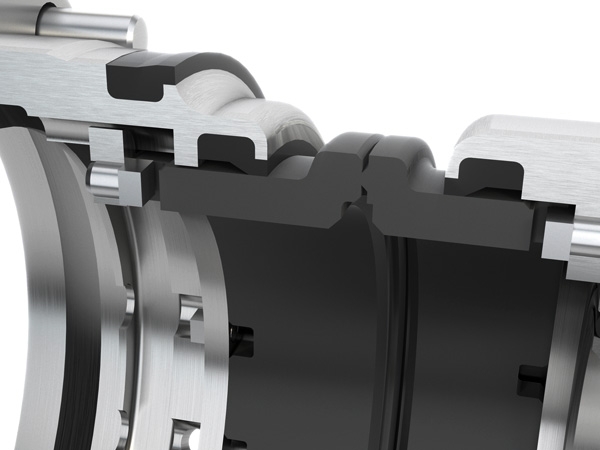 Knife-Edge
The Knife-Edge feature is a special face geometry that allows the seal faces, that are in product contact, to better perform in higher viscosity products. These seal faces are designed to handle very sticky or crystallizing fluids (high sugar content) as well as difficult to seal polymers. An important use of this technology is that, in specific situations, it will allow the use of a single seal where a double seal may have been used in the past.
Excellent radial movement capabilities
Excellent Resistance to Angular Misalignment
Huhnseal has the capability to compensate for angular misalignment without generating undue stress on the mating faces which may degrade sealing performance. This feature minimizes the effects of excessive shaft deflection during operation of the equipment.
Huhnseal can design mechanical seals to tolerate relatively high axial shaft movement. This feature allows for rotating equipment expansion due to thermal cycling or necessary equipment adjustments that would normally affect the mechanical seal.